Eileen is a master of transforming people's lives with personalized workout
programs. Even though she used to design gorgeous homes and clubhouses in Hong Kong and Singapore, Eileen found that nothing beats the reward of helping her clients achieve a healthy and sustainable lifestyle.
With her calm, friendly, and empathic nature, she makes every session
feel like a breeze while emphasizing permanent lifestyle changes and
providing practical fitness tips. Plus, Eileen's diverse exercise options make
working out a blast! Get ready to feel excited about your next session with Eileen.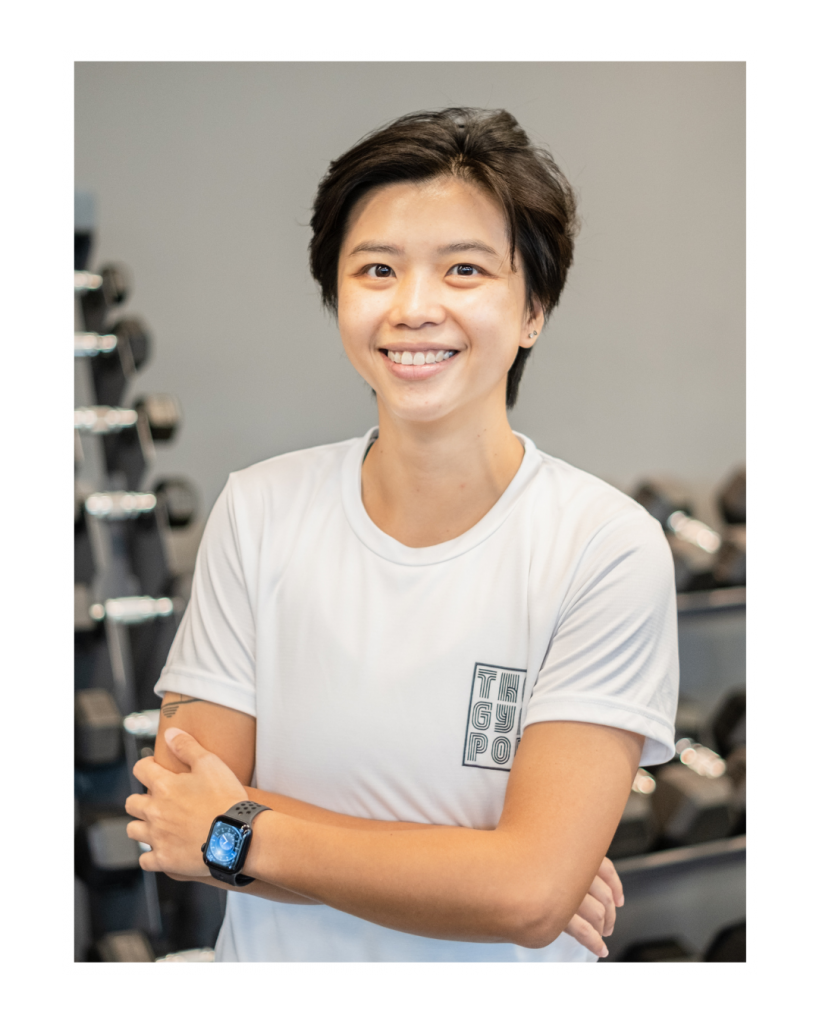 ACE Certified Personal Trainer
FIT Asia Functional Tools Coach
FIT Asia Personal Trainer Essential Skills
Institute of Motion – Applied Health & Human Performance Specialist Level 1
Exercise is Medicine Singapore (EIMS) Certified
Fat Loss
Functional Movement & Strength
Kettlebell Sport
Tennis
Singing
Golf
Dog training
I was ready to begin my fitness journey this year, specifically interested in one to one training with a professional female, and it's been the best decision I've ever made for myself.

Eileen is focused on helping me achieve my goals and makes every session challenging & fun. My fitness has slightly increased noticeably and I've seen improvements in my ability to complete circuit training/superset, lift progressively heavier weights & generally push myself harder throughout each session even though it's only been 5 sessions.

Not only that she is very encouraging, motivating, and very thorough with her explanations and visuals to demonstrate proper technique.

I always look forward to my workouts with her. I would recommend her to everyone – she is amazing!! 😍✨
I appreciate how Eileen has introduced me to a diverse range of workouts and exercises that target my entire body. I always look forward to our training sessions because she consistently challenges me with new and different routines as my body grows stronger over time.
Eileen is also excellent at explaining the proper exercise form, posture, and breathing techniques in detail, which enables me to execute them effectively on my own. Additionally, I enjoy training with her because we often find ourselves laughing out loud, which makes the experience even more enjoyable.
The Gym Pod is conveniently located at many parks, and the one we use is conveniently situated near my home, which further motivates me to exercise. Although the Pod is compact, it offers a wide variety of equipment to meet my needs.
My goal this year is to get physically and mentally fit and strong. I have always hated exercising my whole life, but training with Eileen has changed my views on exercise.

Eileen has taught me a variety of exercises during every session, making exercising much more fun and enjoyable. She is also always patient and motivating. With her help, I have started to enjoy strength training a lot! Through my PT sessions, I have not only learned the proper form for lifting but also various stretching methods to increase my flexibility and range of motion.

Signing up for Personal Training with Eileen is the best investment in my health and well-being. It's amazing to see how much my body has improved through exercising - even my gut health has improved! I can't thank Eileen enough for being such an amazing Personal Trainer.

I highly recommend anyone looking to engage a PT to give Eileen a go!
Eileen's training sessions are structured, challenging, and fun, leaving me feeling refreshed and energized. Her positive and patient approach, coupled with her expertise in fitness, mobility, and strength training, helped me learn the importance of proper form, mobility training, and technique.

In this regard, I learnt a lot about proper form that I didn't even realize was part of training. Learning this made me see training in a new way—that it's not just about 'reps' but involves mental dimensions like focus, coordination, and control as well. Learning about technique allowed me to enjoy training more.

I appreciated her dedication to checking in after each session to see how I was feeling and her commitment to helping me achieve my goals. Even though I learned how unfit my body was, Eileen's training taught me to value patience, perseverance, and continued curiosity. After just four sessions, I now look forward to training and appreciate its mental and physical benefits.