Khaizal is a passionate Master REHAB and Functional Trainer who specializes in injury rehabilitation. As a trained sports massage therapist, he motivates people to achieve their fitness goals through education and encouragement.
In 2017, Khaizal suffered an injury while riding a motorcycle, which led him to learn about therapy, healing, and health. Since then, he has been spreading the word about the importance of health and making it a priority. He took a leap of faith and left his 15-year career as an aviation technician to become a full-time trainer and therapist.
Khaizal enjoys teaching and supporting people, and he is known for his thorough approach in guiding his clients. His experience as a rock climbing instructor 18 years ago gave him the opportunity to develop his skills and become an effective educator. With this additional skill set, he can teach and educate his clients, improving their physical condition and health.
In addition to his qualifications, Khaizal is also a Kettlebell training specialist. In fact, he won third place in the 5-minute Snatch Category at the Singapore Kettlebell Championship in his first Kettlebell competition!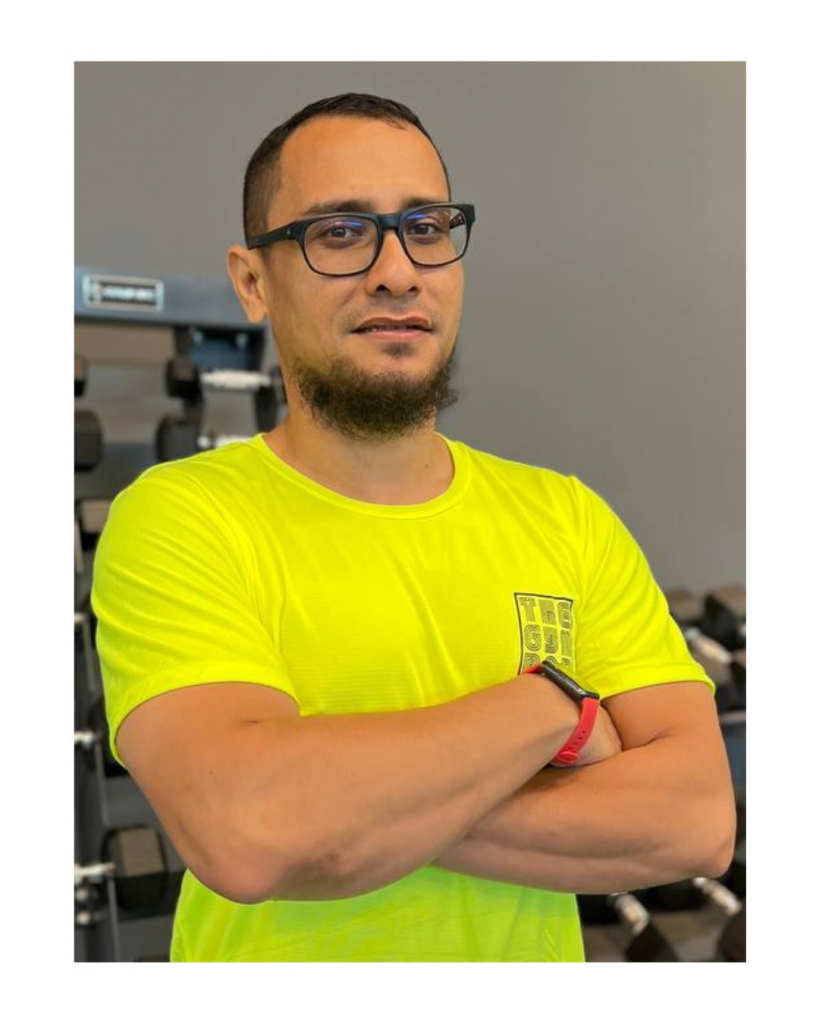 ACE Certified Personal Trainer
Brookbush Institute Certified Personal Trainer
FIT Asia Fundamentals of Kettlebell Level 1 & 2
TriggerPoint Level 1 & 2
Rehab Trainer Masterclass
Master Functional Trainer Level 1, 2 & 3
Fitness Index & IKSFA Kettlebell Training Specialist
Fhysio-ISSA Basic Sports Massage
Fhysio-ISSA Advanced Sports Massage
Fhysio-ISSA FHY Myosfascial Release
Myofascial Decompression Level 1
Spa Ar Rayyan Wet Cupping Therapy and Spa Massage
Kinesio Taping Refresher
Rehabilitation
Functional Training
Sports Massage
I enjoy the training sessions with Khaizal as they help me strengthen myself and adopt a healthier lifestyle. Khaizal offers a personalized training program that aligns with my training goals and gives me a deeper understanding of the purpose of each exercise. During the sessions, he pays close attention to my form and provides guidance on proper techniques.

I appreciate the convenience of The Gym Pod, which is located within walking distance of my house and offers a variety of strength training equipment. In addition, I appreciate not having to wait for equipment and being able to train at my own pace.
I highly recommend Coach Khaizal as a personal trainer. Throughout my training sessions, I appreciated his exceptional level of engagement and efficient use of each session for training purposes.

Coach Khaizal demonstrated excellent customer service skills, a wealth of knowledge, punctuality, and thoughtful consideration. Thanks to his expertise, I was able to acquire a broad range of exercises targeting various muscle groups and their respective functions.
I appreciate the personalized and goal-oriented approach of the personal training provided by Khaizal. He is meticulous in providing information about each exercise and attentive in correcting my form. Training with Khaizal has enabled me to learn a variety of exercises that focus on strengthening the specific areas I want to target. In addition to providing guidance on exercise, Khaizal also offers valuable nutrition advice and other core strengthening exercises.

I particularly enjoy training at The Gym Pod due to its convenience and proximity to my workplace. The Gym Pod provides a private and comfortable training environment with sufficient equipment to tailor to my workouts. Overall, I highly recommend Khaizal as a personal trainer and The Gym Pod as a great training facility.