Kwan possesses various certifications and qualifications in the fitness and wellness field. He is a Yoga Medicine instructor certified in the USA, as well as a clinical Pilates mat/reformer instructor with certifications from the UK and Australia. Kwan specializes in yoga and Pilates (both mat and reformer) for individuals of all age groups. His expertise lies in improving overall muscle tone, strength, balance, and functional mobility. Moreover, he utilizes yoga and Pilates as effective tools for muscle and exercise rehabilitation, specifically targeting issues related to injuries, posture, and pain management.
Furthermore, Kwan offers gym/weights-based exercise training for individuals recovering from injuries or surgeries, as well as those with medical or orthopedic conditions. He has experience working with seniors dealing with conditions such as Parkinson's, scoliosis, dementia, arthritis, stroke, and cancer. Additionally, he caters to the needs of disabled individuals, including those who are blind, deaf, wheelchair-bound, or amputees. Kwan holds certifications as an Aqua Exercise/Therapy instructor from the USA and as a sports massage/manual therapist from the UK.
Kwan collaborates closely with medical and clinical professionals, including doctors, physiotherapists, and psychologists, to ensure his clients receive appropriate exercise and fitness training tailored to their specific requirements.
Despite being 55 years old with a heart pacemaker implant, Kwan possesses a particular passion for middle-aged clients, seniors, individuals recovering from injuries, and the disabled. He is dedicated to helping them establish and maintain a functionally fit and mobile lifestyle. Kwan seamlessly integrates exercises from various disciplines, including gym/weightlifting, yoga, Pilates, and manual/massage therapy, to aid his clients in achieving functional fitness, improved mobility, enhanced postural strength, and balance.
In his leisure time, he enjoys activities such as weightlifting, cycling, dragon boating, swimming, as well as indulging in coffee, cake, and iced desserts. Furthermore, Kwan is proficient in English, Mandarin, and Cantonese, allowing him to deliver training and communicate effectively in these languages.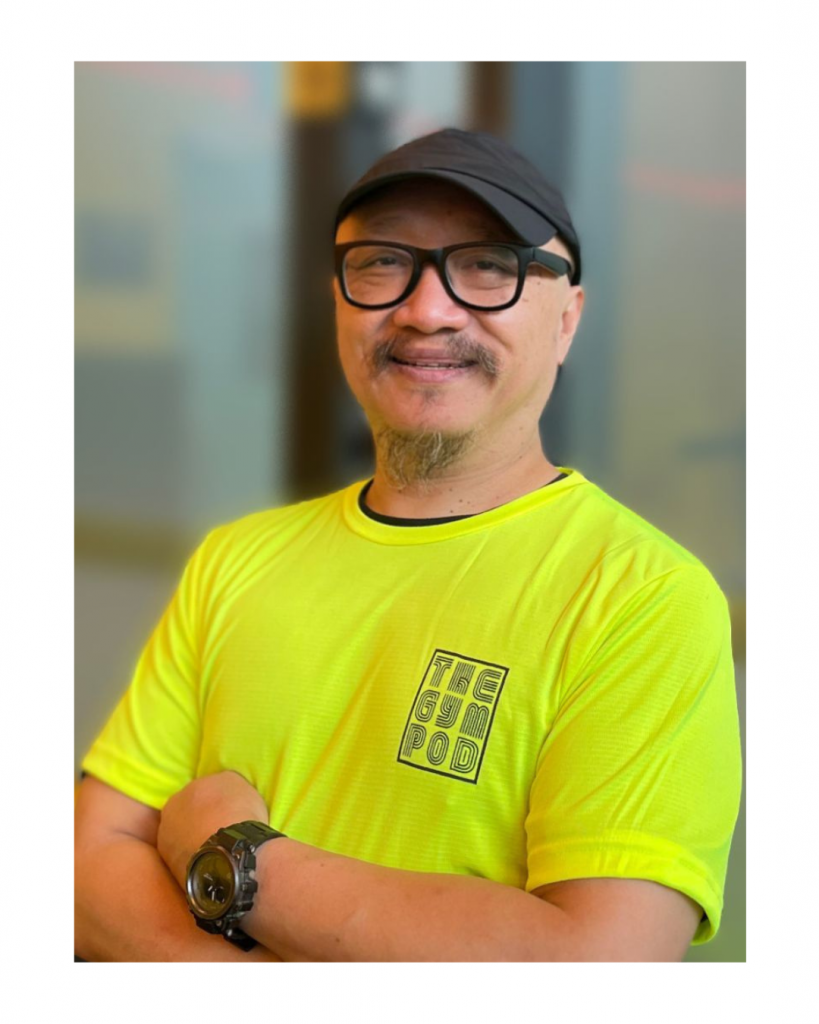 USA 200YTT/Yoga Medicine Instructor
USA Power Pilates Mat Instructor
UK CPD Certified Pilates Instructor
Australia United Health Certified Clinical Pilates Instructor
ACE Certified Personal Trainer
ACE Certified Seniors Fitness Specialist
ASFA Certified Aqua Exercise Instructor
ACSM Exercise is Medicine Certified
Exercise is Medicine Singapore (EIMS) Certified
Rehab Express Trainer
USA Certified Barbell Rehab Trainer
UK CPD Certified Sports Deep Tissue Massage Therapist
Chinese Acupressure Certified
Singapore Republic Polytechnic/SportsSG Disabled Fitness certificate
Thai Stretching Massage Therapist
Aqua Exercise

Acute/Chronic Medical Conditions

Functional Training (Running, Tennis, Squash & Golf)

Injury Management and Rehabilitation

Pilates Mat/Reformer Exercise

Small Group Training

Strength & Conditioning


Senior Fitness

Yoga (Stretching, Exercise, Flow, Rehab & Restorative)
Bodybuilding
Weighlifting
Canoeing / Kayaking / Dragonboating
Cycling
Hiking
Music (Jazz, Classical)
Coffee, cake & iced desserts