SUNDOWN Marathon 2023
Training Workshop
Strength & Conditioning. Proper Form & Technique. Efficient Running Mechanics.
Are you looking to become a stronger, more efficient runner?
The Gym Pod Academy is launching a series of FREE training workshops that will help runners of all levels become stronger and improve their running performance.
For the full Block 2 training schedule, click the button below.

The workshops will focus on strength and conditioning work, and will include a variety of exercises and drills designed to help you become a better runner.
We'll cover topics such as proper form and technique, efficient running mechanics, and how to develop the right muscles for a strong, powerful stride.
Whether you're a beginner or an experienced marathoner, these workshops are designed to help you improve your running performance.
REGISTRATION FOR THE SECOND TRAINING BLOCK SERIES IS NOW OPEN!
Get ready to lace up your sneakers!
Registration for the second block of our highly anticipated training workshop is officially open to the public. Join us from 16 March to 6 April 2023 at the 100PLUS Promenade @ Singapore Sports Hub – Gate 1, where you'll have the opportunity to improve your running technique and take your performance to the next level. Don't miss out on this chance to join a community of passionate runners and reach your full potential!
Spots will be filled on a first-come, first-served basis.
Limited to the first 30 sign-ups for each workshop block.

TRAINING SCHEDULE FOR 2ND BLOCK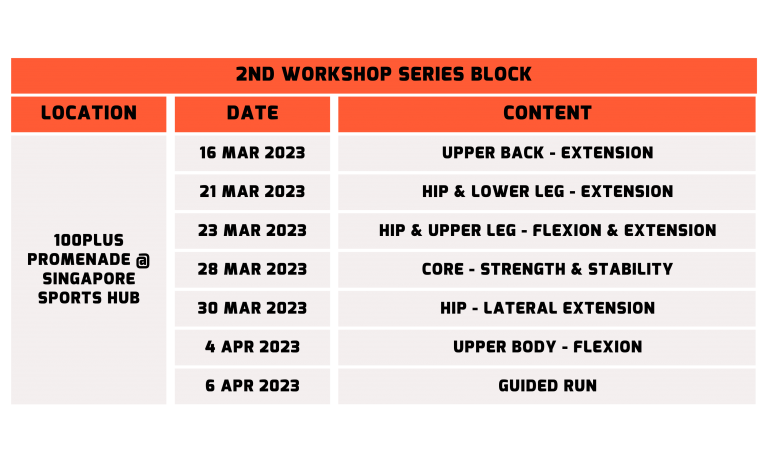 For the best results, it's highly recommended that you attend all of the training workshops in one block. These workshops are scheduled from 7:15pm to 8:15pm.
Additionally, you will receive an email reminder as the workshop date draws near.
LET'S GET STARTED ON YOUR JOURNEY TO BECOMING A STRONGER, MORE EFFICIENT RUNNER!
Limited to the first 30 sign-ups for each workshop block.